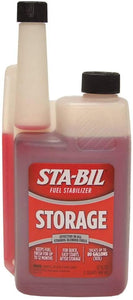 #ad
Add 2.5oz for every 5gal gas can and you will never have to guess how much to add when you store your generator. Or worse yet, forget to add it at all. 
32oz Bottle
Keeps fuel fresh for up to 24 months during storage

Eliminates need to drain fuel prior to storage

Ensures quick, easy starts after storage

Effective in all gasoline, including ethanol blends

For all gasoline engines, including 2-cycle
Please check out our other videos and upgrade kits to help make your life better.

A portion of all profits go to Veterans charities. Thank you for your support!
This kit is compatible with these models:
Predator 3500 (Harbor Freight)
Powerhorse LC3500i (Northern Tool)
Echo Bear Cat IG3500
BE i3500L
Loncin LC3500i
Atlas Copco P3500i
JET JIN 3500E